13 dog breed silhouettes, all based on real dogs!
#WearTheLove
13 dog breed silhouettes, all based on real dogs!
Our Story
Dog·On·It is an apparel and accessories company dedicated to dogs and the people who love them. Our founder, Julie, was the proud mom of JJ, a Harlequin Great Dane, who inspired the company. We created our signature logo from a paw-shaped marking from his neck in the photo here!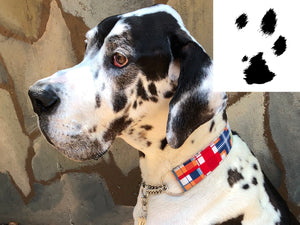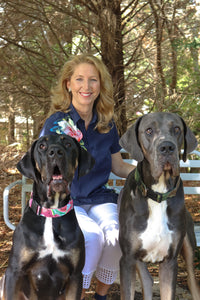 Meet Ruby & Bo
Bo and Ruby were handpicked by JJ in heaven for our family.
Just like JJ, they are Great Danes. They love being in the office everyday with Mom (Julie) and Dad (John)!
Giving Back
Hoof and Paw Benevolent Society is an organization dedicated to protecting, comforting and improving the lives of abused, homeless and abandoned animals in our home state of South Carolina. Since its founding in 2012, its goal has been to increase the awareness and support for adoptions of shelter-bound animals.
Dog On It proudly supports the work of Hoof & Paw by contributing a percentage from every purchase!
Hoof & Paw Facebook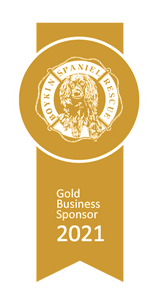 Boykin Spaniel Rescue
Dog On It is a proud gold corporate sponsor of the Boykin Spaniel Rescue.
The mission of BSR is "to raise the funds necessary to make sure that every Boykin Spaniel that needs medical or emotional assistance get that help, and then is placed in a forever home." 
A percentage of proceeds from our "Cleo Boykin Tee" is donated back to the BSR to help raise funds for their wonderful cause. 
For more information about BSR, click below:
Boykin Spaniel Rescue
Contact Us
1010 Wildewood Centre Drive 
Columbia, SC 29229
Mon - Fri, 9am-4pm
info@yourdogonit.com